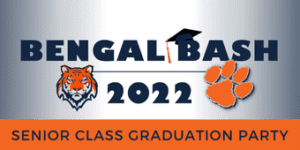 Bengal Bash is May 25th & 26th this year, at the Cottonwood Heights Recreation Center, from 10:30 pm to 3:00 am. Tickets are $35 pre-sale; save $10, or pay $45 at the door. Tickets can be purchased online at http://bengalbash.ticketleap.com/2022/ or scan the QR code below. Students who purchase tickets early are entered into our drawing for one of four gift cards weekly.
Some of the activities, entertainment, food, and prizes planned for the night are; giant sumo suit wrestling tournaments, Poker Room with dealers managing the games, contests, and rewards; freestyle ice skating/broomball, wallyball tourneys, basketball tourneys, pickleball, human hamster ball soccer, human foosball, BINGO, escape room, and a Silent Disco Party. To participate in Silent Disco, students need to bring their iPods/headphones to join in the fun.
Gift card drawings every 15 minutes, big-ticket prizes (PlayStation, Lululemon Gift Cards, Stanley Drink Cups, blankets, etc.) throughout the night, with a yummy waffle bar, various snacks, and drinks available all night long.
WE ARE IN URGENT NEED of parents to help out at the party, especially the later shifts. Checking students and bags out, helping with the activities, and clean-up. It ends at 3 am. If we get enough help, we should be done by 3:30-3:45 am. Here is the link to see what slots are still open. We appreciate the help!
For questions, please email us at brightonbengalbash.com.
Bengal Bash Senior Class Graduation Party
DATE: May 25th & 26th
TIME: 10:30 pm to 3:00 am
PLACE: Cottonwood Heights Recreation Center
TICKETS: $35 pre-sale | $45 @ the door
BUY your tickets online @ bengalbash.ticketleap.com/2022/.com or scan our QR code found here or on the Bengal Bash Posters around the school.